Mirena® and Jaydess® fully funded¹
Mirena® and Jaydess® fully funded¹
Bayer New Zealand Ltd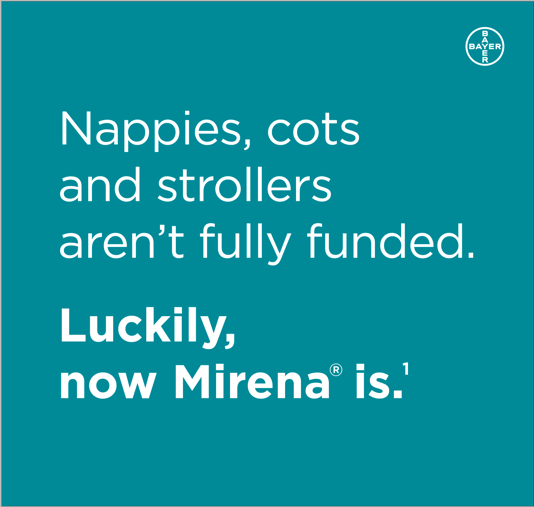 Long-acting contraceptives now funded
Mirena and Jaydess are now fully funded by PHARMAC, offering more options for women seeking highly effective, long-acting, reversible contraception.1,2,3
Device cost is no longer a barrier to women wanting highly effective birth control.
Mirena and Jaydess are now fully funded by PHARMAC1, providing women with more choice when seeking highly effective long-acting and reversible contraception. Mirena and Jaydess can be used for 5 years and 3 years, respectively, and both demonstrate a cumulative contraceptive failure rate of less than 1%.2,3
Mirena and Jaydess are intrauterine delivery systems (IUS) and both are highly effective at inhibiting sperm motility and function. Upon stopping using Mirena and Jaydess, women return to their usual fertility.2,3
Mirena is also an effective treatment for heavy menstrual bleeding where no underlying pathology can be found. After six months of use, a reduction of menstrual blood loss of up to 95% is observed. In addition, Mirena provides the progestogenic component of continuous hormone replacement therapy.2
MIRENA® Prescription Medicine. 52 mg intrauterine delivery system containing levonorgestrel.
JAYDESS® Prescription Medicine. 13.5 mg intrauterine delivery system containing levonorgestrel.
INDICATIONS: Mirena: Contraception; treatment of idiopathic menorrhagia provided there is no underlying pathology; prevention of endometrial hyperplasia during estrogen replacement therapy. Jaydess: Contraception for up to 3 years.
DOSAGE AND ADMINISTRATION: Insert into the uterine cavity. Refer to Data Sheet (DS) for instructions on insertion and removal. Mirena: Up to 5 year in-situ life. Jaydess: Up to 3 year in-situ life.
CONTRAINDICATIONS: Known/suspected pregnancy (Category B3); current or recurrent pelvic inflammatory disease or conditions associated with increased risk of pelvic infections; lower genital tract infection; postpartum endometritis or infected abortion during the past three months; cervicitis, cervical dysplasia/intraepithelial neoplasia; uterine or cervical malignancy; confirmed or suspected hormone dependent tumours including breast cancer; undiagnosed abnormal uterine bleeding; congenital or acquired uterine anomaly including fibroids if they distort the uterine cavity; acute liver disease or liver tumour; hypersensitivity to the active substance or to any of the excipients.
PRECAUTIONS: Use with caution after specialist consultation or consider removal if following exist or arise for the first time: migraine, focal migraine with asymmetrical visual loss or other symptoms indicating transient cerebral ischemia, exceptionally severe headache, jaundice, marked increase in blood pressure, severe arterial disease, acute venous thromboembolism. Tumours; Endometrial polyps, hyperplasia or cancer; Congenital or valvular heart disease and are at risk of infective endocarditis; Diabetes; Oligomenorrhoea and/or amenorrhea; Pelvic infections; Expulsion; Perforation; Ectopic pregnancy; Sexually transmitted infections; Lost threads; Ovarian cysts/enlarged ovarian follicles. Others see full DS. Mirena only: Nulligravid women; post-menopausal women with advanced uterine atrophy.
INTERACTIONS: Interactions can occur with medicines that induce or inhibit microsomal enzymes, however, influence is not known. See full DS. Jaydess only: Magnetic resonance imaging. ADVERSE EFFECTS: Headache, abdominal/pelvic pain, acne/seborrhea, bleeding changes, ovarian cyst, vulvovaginitis, genital discharge, depressed mood/depression, migraine, nausea, upper genital tract infection, dysmenorrhea, breast tenderness/pain, device expulsion, hirsutism, alopecia. Uterine perforation, ectopic pregnancy, hypersensitivity, sepsis. Insertion/removal may precipitate a seizure in an epileptic patient. Mirena only: Nervousness, decreased libido, back pain, weight gain, breast cancer, cervicitis. Others see full DS.
Based on Mirena DS dated 15 February 2018, Jaydess DS dated 12 February 2018. MIRENA and JAYDESS are fully funded – no special authority.
Before prescribing, please review full Data Sheet for further information on the risks and benefits. Full Data Sheet is available from www.medsafe.govt.nz
References
References: 1. PHARMAC Schedule www.pharmac.govt.nz, accessed 1st November 2019.
2. Mirena Data Sheet, February 2018.
3. Jaydess Data Sheet, February 2018